Jackie R. Halpern
QC
Partner
OFFICE: Calgary South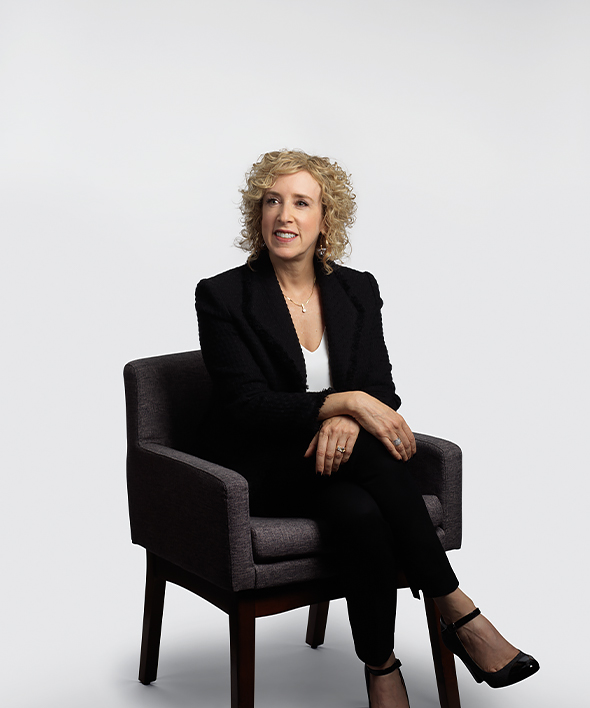 Assistant
Cynthia Heinbuch
I care about my clients, and use my knowledge and experience to get them the best results possible.
Jackie is a Partner and head of the Personal Injury group at McLeod Law. Jackie is a highly skilled lawyer who acts exclusively for plaintiffs, seeking fair and just compensation for victims and families impacted by injuries. In addition to her law practice, Jackie is also the President of the Alberta Civil Trial Lawyers Association, and previously was Co-President of the Personal Injury subsection of the Canadian Bar Association (Alberta branch). She is a recognized leader in the area of serious personal injury and has a proven track record of obtaining excellent results for her clients, which helps them get on with their lives. Clients have highly recommended Jackie, giving her a rating of 5 out of 5 ("Platinum" rating) on Martindale-Hubbell.com and Lawyers.com, their highest client rating available. Jackie is ranked by the Canadian Legal Lexpert® Directory as a leading practitioner in Personal Injury - representing plaintiffs.


Education
1990

University of Calgary, LLB

1987

University of Calgary, BA
Experience
Jackie has decades of experience successfully fighting for plaintiffs who are the victims of accidents through no fault of their own. She contributes to numerous charitable and professional organizations. She was appointed Queen's Counsel by the Lieutenant Governor of Alberta in 2011 and is the recipient of the Queen's Diamond Jubilee medal in 2012. Jackie is married with two children, and in her spare time enjoys travelling, and is a self-professed fitness fanatic.
Recognition

PUBLICATIONS

"DEAR JUSTICE MINISTER: WE ARE IN A CRISIS. AND WE ARE HERE TO HELP.", Law Matters, Canadian Bar Association, Winter 2019-20
"Don't Mistake Kindness for Weakness," Truth Be Told: An Anthology of Inspirational Stories by Women in the Law, 2018
"Issues and Considerations in Making a Claim Pursuant to the SEF 44 Endorsement", Alberta Civil Trial Lawyers Association Seminar, October 2017, Kristy Williams & Jackie Halpern QC
"Subrogated Rights of Employers: Alive and Well in Alberta, Hammond v. DeWolfe, 2014 ABCA 81", The Barrister, Alberta Civil Trial Lawyers Association, December 2014
Volunteer Contributing Editor, Women and the Law 7th edition, Calgary Legal Guidance, 2011

HONOURS AND AWARDS

Recognized by the Canadian Legal Lexpert® Directory as a leading practitioner in the field of Personal Injury – Representing Plaintiffs, 2020
Client rating of 5/5 by Martindale-Hubbell.com and Lawyers.com
Recipient of two awards for service to the community, 2009, 2017
Recognized by The Canadian Bar Association for service, 2016
Recipient of the Queen's Diamond Jubilee Medal, 2012
Appointed Queen's Counsel by the Lieutenant Governor of Alberta, 2011

Memberships

Alberta Civil Trial Lawyers Association

President (March 2020-present)
Vice President (2019-2020)
Secretary (2018-2019)

Treasurer (2017-2018)

Board of Directors (2016-present)

Canadian Bar Association - Alberta - Personal Injury Subsection

Executive (2014-present)

Chair (2014-2016)

Canadian Bar Association

Law Society of Alberta

Calgary Bar Association

Association of Women Lawyers

Community

Women's Legal Forum Sponsorships Committee
CHW's Annual Fundraising Campaign

Chair, Childcare, Healthcare, Women, 2011-present

JCFC Organization of Calgary

Board member, 2014-present

Calgary Glenmore Progressive Conservative Association
JFS Calgary
Feed the Hungry
Beth Tzedec Synagogue

Vice president, 2011-2013

The Calgary Jewish Academy

Former president
Numerous board positions

Canadian Diabetes Association
Multiple Sclerosis Society

Teaching Roles & Speaking Engagements

SPEAKING ENGAGEMENTS

SPEAKER

Profits vs. People - The Realities of a Proposed No-Fault System

FAIR and ACTLA, 2021

---

GUEST SPEAKER

The Future of Injury Law in Alberta: Updates on the Government's Review of the Minor Injury Regulations

Canadian Bar Association, Personal Injury Subsection, 2020

---

GUEST SPEAKER

Canadian Bar Association

Personal Injury Subsection, Various Topics, 2014, 2016, 2017, 2018

---

MODERATOR

Health Care Symposium

McLeod Law LLP, 2015, 2016, 2018

---

GUEST SPEAKER

Trial Advocacy Course

University of Calgary Law School, January 2016

---

PRESENTER

Minor Injury Regulations

Numerous health care clinics, 2007-present (Calgary)

---

PRESENTER

Registered Massage Therapist Course

SAIT, 2010