Matthew T. Burgoyne
Partner
OFFICE: Downtown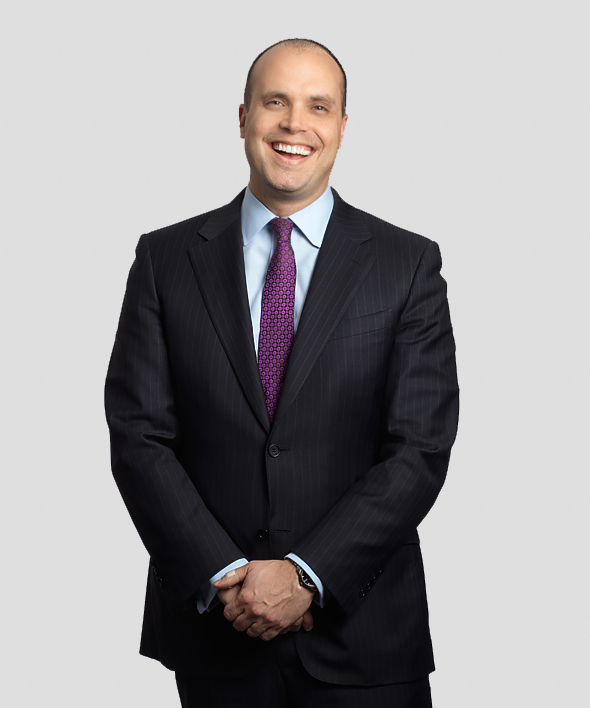 I use my experience in a responsive, meaningful way to help clients navigate the complex regulatory process.
Matthew is a business lawyer with a focus on securities law who acts for a variety of businesses and entrepreneurs, mainly in the cryptocurrency and private lending industries. He has been advising companies in the cryptocurrency space since the summer of 2013, making him one of the first Canadian lawyers to act for cryptocurrency companies in Canada.
Matthew was an integral part of McLeod Law's efforts to accept bitcoin as payment for legal services in the fall of 2013, making McLeod Law the first full service law firm in Canada to accept bitcoin. His clients in the cryptocurrency and blockchain space include cryptocurrency exchange platforms, cryptocurrency wallet developers, issuers of digital currency (including stablecoins and NFTs), cryptocurrency miners and cryptocurrency investment funds.
Matthew acts for both Canadian and international clients in countries ranging from the UK, Israel and China and has also assisted in drafting clauses pertaining to cryptocurrency in wills, powers of attorney and post-nuptial agreements. He is regularly called to give his opinion to the media on issues relating to cryptocurrency and Canadian law, and has been quoted in the Globe and Mail, Toronto Star, Bloomberg, Winnipeg Free Press, The Logic and Vice Media and has also been interviewed on CBC radio and CBC television.
Matthew sits on a variety of advisory boards of his clients and is currently an advisor to the Alberta Securities Commission's New Economy Advisory Committee. His commercial practice encompasses:
private market financings
mergers and acquisitions
secured and unsecured lending transactions
stock exchange listings
regulatory compliance, including anti-money laundering and counter-terrorist finance legislation
securities and general regulatory compliance issues facing the cryptocurrency industry
shareholder agreements
unique contract drafting
mutual fund trusts matters
Matthew provides business law advice to other industries as well, most notably private lenders, including mortgage investment corporations (MICs), syndicated mortgage entities, and mutual fund trusts.
Education
2004

University of Manitoba, LLB
Admissions
2006

Alberta

2005

Manitoba
Experience
Represents Blockchain Venture Capital Inc., the first stablecoin issuer in Canada to partner with a subsidiary of a schedule 1 Canadian financial institution
Represented some of Canada's initial cryptocurrency exchanges
Represents one of Canada's first non-fungible token (NFT) platforms
Represents the issuer of Canada's first digital currency created for the casino industry
Acted as vendor's counsel in the sale of an Alberta based EOS block producer to a San Francisco based purchaser
Represents a global visual media company headquartered in the US, which is a supplier of stock images, editorial photography, video and music for business and consumers
Represents Alberta's largest mortgage investment entity, a mortgage investment fund with over $150,000,000 in assets under management
Recognition

RECENT MEDIA COVERAGE

Quoted in "More Big International Crypto Platforms Restrict Use by Canadians as Crackdown Continues" The Logic, Nov 29, 2021
Quoted in "OSC's crypto crackdwon tough to enforce but still worth it, securities expert says" The Toronto Star, June 15, 2021
Quoted in "OSC could face challenges in its crackdown on unregistered cryptocurrency exchanges based overseas, say experts

" The Globe & Mail, June 11, 2021

Quoted in "Ontario regulator clamps down on cryptocurrency exchanges amid bitcoin craze" The Toronto Start, May 26, 2021
Quoted in "OSC to start enforcing new rules for unregistered crypto trading platforms" The Globe & Mail, May 26, 2021
Quoted in "Bitcoin? Why Nott?
Winnipeg car dealer sells vehicle for cryptocurrency for first time" Winnipeg Free Press, April 3, 2021
Quoted in "Regulators unveil new guidance for cryptocurrency traders in Canada" The Globe & Mail, March 29, 2021
Quoted in "Canadian securities regulators announce crackdown on unregistered cryptocurrency-trading platforms" The Logic, March 29, 2021
Quoted in "Canadian investors at risk as number of unregulated cryptocurrency exchanges explodes" The Logic, March 22, 2021

Quoted in "Right place, right time
Digital professional matchmaking service is virtually designed for social distancing" Winnipeg Free Press, January 14, 2021
Quoted in "BVCI launches new Canadian stablecoin--CADT--with support from Concentra Trust" Bloomberg, July 31, 2020
Quoted in "Cryptocurrency Estate Planning 2021 Study" Cremation Institute, July 7, 2020
Quoted in "Calgary firm accepting cryptocurrency for legal services,"

Canadian Lawyer Magazine

, October 2, 2018

Quoted in "Canada's Digital Currency Future," The Canadian Bar Association,

CBA PracticeLink

, February 26, 2018

Quoted in "The ABC's of Bitcoin and Cryptocurrencies Explained", CEO.ca on the intricacies of bitcoin and the issues to deal in virtual currencies delving into mining farms and the utility of virtual currency for transactions, July 2017

Quoted in "Why Chile's First Bitcoin Exchange was Funded by the Government: Chile is giving Bitcoin a warm welcome,"

Motherboard

, April 2015

Quoted in "Cryptocurrency!"

Canadian Lawyer

, June 2, 2014

Quoted in "Bitcoin future in Canada,"

Cointelegraph

, November 2013

PUBLICATIONS

Memberships

Community

Canadian Blockchain Consortium

Director and Chair of legal committee

Calgary Crime Stoppers Association

Former President and Director

Oxford House Foundation of Canada

Bishop O'Byrne Housing for Seniors Association

Teaching Roles & Speaking Engagements

SPEAKING ENGAGEMENTS

---

SPEAKER

2021 CMSBA Canada Spring Training Session

The Canadian Money Services Business Association, June 2021

---

MODERATOR

Deconstructing IIROC/CSA Staff Notice 21-329: Who is affected? What are the obligations?

Canadian Blockchain Consortium webinar, May 2021

---

PRESENTER

Crypto & Taxation 101

Spring 2021 TAG Alliances Virtual International Conference: TAG Tax, May 2021

---

SPEAKER

New FATF Draft Guidelines and the potential threat facing the De-Fi, NFT and Stablecoin industries

Canadian Blockchain Consortium webinar, April 2021

---

SPEAKER

Technology Law Career Panel

University of Calgary Technology Law Association webinar, March 2021

---

SPEAKER

Sanctions - Discover how the long arm of US law can have devastating impact

Canada Blockchain Consortium webinar, February 2021

---

SPEAKER

The Future of Money: Canadian Digital Currency Law 2020

Vexxit Business webinar, December 2020

---

MODERATOR

Trust in Transactions: Security & Digital Currency Exchanges

Alberta Technology Symposium, April 2020

---

SPEAKER

Trust in Transactions: Security & Digital Currency Exchanges

Alberta Technology Symposium, April 2020

---

MODERATOR

Trust in Tokens: Regulating Blockchain Securities

Alberta Blockchain Summit, September 2019

---

SPEAKER

Financing Blockchain Innovation;

The Future of Blockchain Regulation in Canada

Bitcoin Rodeo Conference, March 2019

---

SPEAKER

State of Crypto Law 2018

Blockchain & Crypto Business Convention, October 2018