Vik Mall
Associate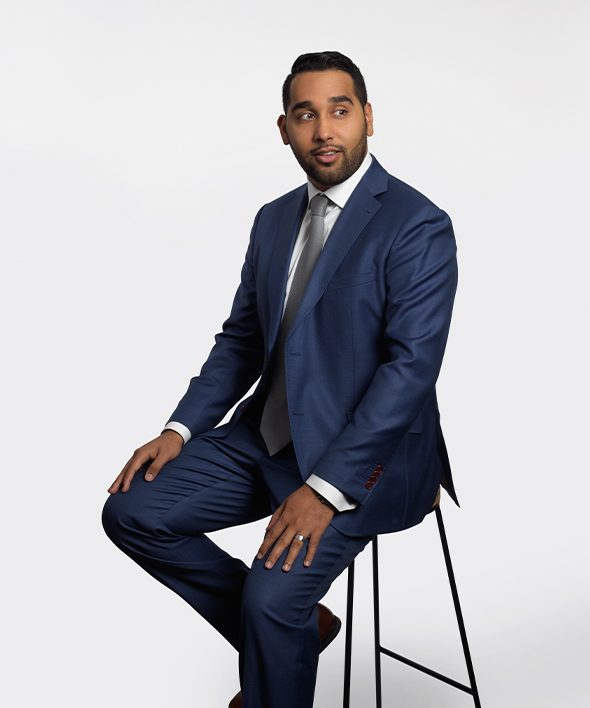 I help clients understand the law and advocate for their rights to achieve the results they deserve.
Vik is an experienced litigator and his practice encompasses a broad range of focus areas including Personal Injury, Employment Matters and Commercial Litigation. He advises his clients in all aspects of a dispute and is experienced in managing parties on all sides.
Vik has also worked at a national insurance defense firm and understands the steps needed to quickly and fairly resolve personal injury and construction claims.
Vik has appeared before all levels of court in the Province of Alberta. He has also successfully acted in multiple complex Queen's Bench trials. In addition, he has in-depth knowledge and specific experience in appellate advocacy.
In addition to practicing law, Vik is actively involved in the Calgary community and volunteers with a number of organizations. Currently, he contributes his time to Pro Bono Law Alberta and the Harry Schaefer Mentorship program at Mount Royal University.
Education
2013

University of Calgary, JD

2009

University of Lethbridge, BMgmt

2007

Mount Royal University, Business Administration Diploma
Experience
Annett v. Enterprise Rent-A-Car Canada Ltd.,

2019 ABQB 716 - Co-counsel in a trial considering allegations of negligence resulting in Post Trautmatic Stress Disorder (PTSD) and fibromyalgia
Watkins v. Willow Park Golf Course Ltd., 2017 ABQB 541 - Co-counsel at trial in the successful defence of an employer from a wrongful dismissal action

Burby v. Ball

, 2018 ABCA 22 - Successfully represented the respondent in an appeal before the Alberta Court of Appeal concerning a rural land purchase agreement

L III Inc. (Consumer Auto Liquidators Inc.) v. Van Der Vegte, 2017 ABPC 94 - Successfully represented the plaintiff on a summary judgment application

Burby v. Ball

, 2017 ABQB 300 - Co-counsel at trial in the successful defence of rural purchasers from allegations that the subject sale was invalid on the grounds of unconscionability or undue influence

Rowland v. Rowland

, 2016 ABCA 134 - Co-counsel in the successful representation of the respondent in an appeal before the Alberta Court of Appeal concerning an option to purchase and a right of refusal agreement for farmland
Memberships

Community

Pro Bono Law Alberta

Harry Schaefer Mentorship Program, Mount Royal University