40 Years, 40 Stories
Matthew Burgoyne, Partner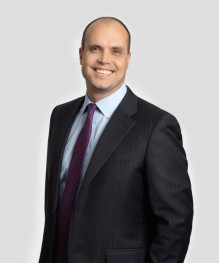 Affectionately known as "Bitcoin Burgoyne," Matthew is a partner in McLeod Law's Business Law group with a niche focus in cryptocurrency and blockchain.
Matthew's fascination with digital currency began in 2013, when bitcoin began to emerge. "Whenever a law is about to change, that's an opportunity to help businesses get ready to adapt," he says. So Matthew dug into the topic and quickly became a noted authority, speaking internationally, making media appearances and publishing articles. He was instrumental in McLeod being one of Canada's first law firms to accept payment in bitcoin.
In an area full of regulatory processes, Matthew prefers to keep his approach simple. "I give practical, plain-spoken advice," he says, "and do my best to help my clients achieve their objectives in a timely fashion." He works with a variety of clients and covers various areas of the law, including securities, wills, estates and private lending. Recently, he helped Blockchain Venture Capital Inc. launch its stablecoin product together with Concentra Trust, a Schedule I Canadian bank — the first such partnership in Canada.
In his downtime, Matthew can be found digging into a horror novel, bouncing on a trampoline or road-tripping to BC with his wife and seven-year-old son. A long-distance runner, he can't wait for the next half-marathon to open up in Calgary.
---
In celebration of our milestone anniversary, 40 Years 40 Stories celebrates the diverse expertise, personalities and points of view that have helped our firm grow with the Calgary community since 1980.