Peter W. Cline
Partner
OFFICE: Downtown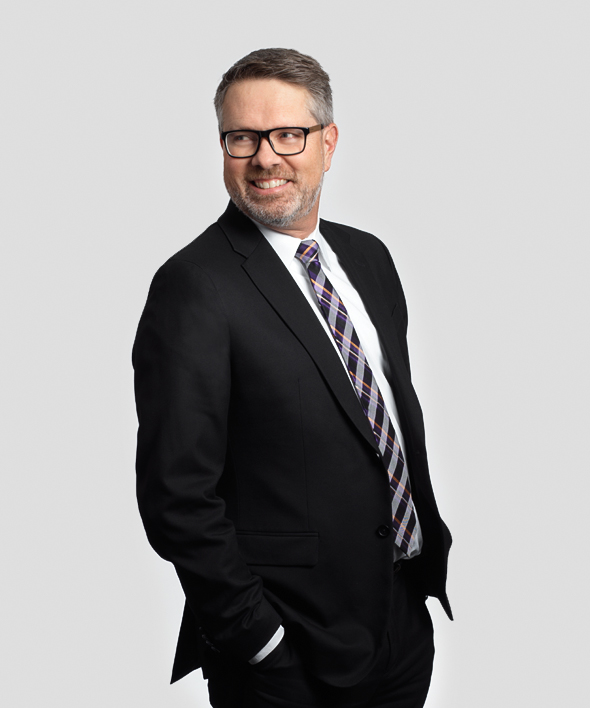 I do my best to give some help to the helpless, and some hope to the hopeless.
Peter has more than 24 years of experience with personal injury claims and disability insurance claims. He helps ill and injured clients recover the disability insurance benefits owing to them because they are unable to work, and the compensation they are entitled to for the damages suffered as a result of an accident.
For 20 years Peter acted as defence counsel for automobile, life, and health insurance companies before committing exclusively to advocating for the ill and injured. His keen understanding of how insurers and their legal counsel assess and value claims combined with his strong reputation and longstanding relationships with insurance companies helps achieve the best outcome for his ill and injured clients.
Clients appreciate Peter's approach to addressing their specific needs by engaging other specialized lawyers in the firm to navigate everything from employment issues, family law issues, and wills and estates issues.
Education
1995

University of Alberta, LLB

1990

University of Calgary, BA (Honours)
Experience
Peter has litigated virtually all types of illness and injury claims and is nationally recognized for his expertise, having worked with clients across Canada. He has significant experience with life, critical illness, long-term care, and other health insurance claims, such as accidental death and dismemberment, as well as a variety of commercial litigation matters. He has appeared at all court levels in Alberta and the Federal Court of Canada.
Representative work:
Overcame an alleged misrepresentation to obtain critical illness benefits for a client who suffered from Multiple Sclerosis
Assisted in settling retired clients' motor vehicle injury claims for $300,000
Assisted in settling a seriously injured client's motor vehicle injury claim for $1.75 million dollars
Obtained an order from the court directing a $75,000 advance payment to a seriously injured client who needed financial assistance
Defeated a court application by a disability insurer to strike out a client's disability claim for being out of time
Negotiated a lump sum settlement for a disability insurance client who needed funds to deal with other debts
Successfully defended a summary judgment application before the court with respect to a slip and fall incident
Obtained long-term disability benefits for various clients who suffered from such conditions as MS, depression, Lyme disease, fibromyalgia, chronic fatigue syndrome, chronic pain, anxiety, PTSD, osteoarthritis, autoimmune disorders, musculo-skeletal conditions and injuries
Assisted in settling injury claims for clients who were attacked and bitten by a dog
Settled injury claims for clients involved in all types of motor vehicle accidents, bicycle accidents and slip and fall incidents
Recognition

Honours and Awards

Recognized by The Best Lawyers in Canada in the field of Corporate and Commercial Litigation, 2021 - 2022

Memberships

Canadian Bar Association

Calgary Bar Association

Law Society of Alberta

Community

Feed the Hungry
Basketball and hockey
Community fundraising

Teaching Roles & Speaking Engagements

SPEAKING ENGAGEMENTS

COMMENTARY

'Focus on the People' feature on Managing mental health disability claims - short-term and long-term disability insurance claims

Business In Calgary Magazine

---

GUEST LECTURER

Insurance Law

University of Calgary Faculty of Law

---

SPEAKER

Litigation Potpourri

ACTLA, 2015

---

SPEAKER

How to prepare for mediation

Legal Education Society of Alberta (LESA), 2015

---

SPEAKER

Fundamentals of Life Insurance Claims

CBA Insurance Section meeting

---

SPEAKER

Accident claims, Disability claims, and Critical illness

Canadian Life and Health Insurance Association

---

SPEAKER

Disability Insurance Claims

CBA Alberta mid-winter meeting