Spencer T. Chimuk
Partner
OFFICE: Downtown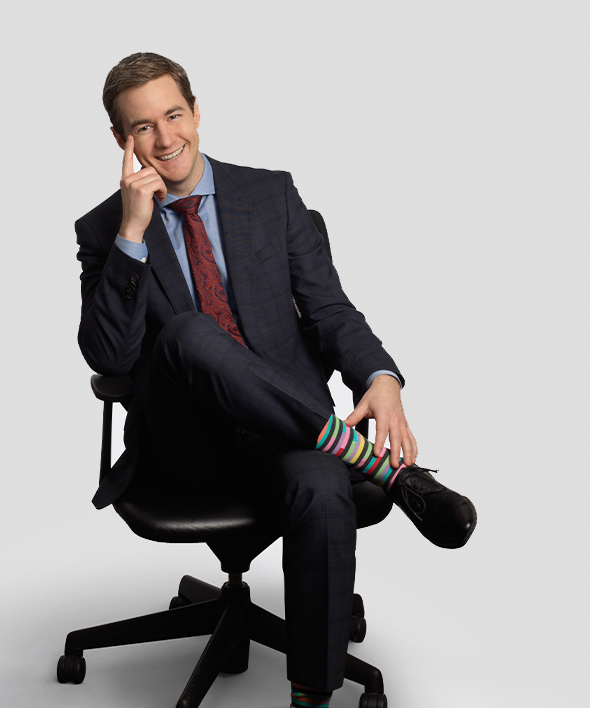 Assistant
Teri-Lynn Sexsmith
My approach to the law is practical and focused on providing real-world solutions for business needs.
Spencer practices in litigation and dispute resolution, which involves:
contract disputes
employment disputes
shareholder litigation
builders' liens and construction disputes
debt recovery
His clients include employees, employers, builders, owners, condominium corporations, and other individuals and businesses.
Spencer has appeared successfully before the Alberta Provincial Court, the Alberta Court of Queen's Bench and the Alberta Court of Appeal. He has also participated in alternative dispute resolution processes, including mediation and arbitration.
Education
2013

University of Manitoba, JD

2011

The Hebrew University of Jerusalem, International Business Law and Human Rights Law exchange program

2010

McGill University, MA

2008

University of Winnipeg, BA (Honours)
Experience
Employee rights
Drafting, review, and analysis of employment agreements across a variety of industries, including executive agreements, independent contractor agreements, and consulting agreements.
Drafting, review, and analysis of employment policies, including profit sharing programs, bonus policies, share distribution plans, privacy and confidential information policies, and other matters.
Drafting, review, and analysis of termination provisions and restrictive covenants, including non-competition, non-solicitation, and intellectual property provisions or agreements.
Employment law
Successful negotiation, litigation, mediation, and arbitration of a variety of employment disputes acting for both employees and employers, including severance negotiations, terminations for cause and without cause, disputed bonus or share rights, and enforcement of restrictive covenants, such as non-competition and non-solicitation provisions or agreements.
Lead counsel for a contested Freedom of Information Request for proprietary industry data from an international engineering firm.
Lead counsel concerning an alleged privacy breach investigated by the Office of the Information and Privacy Commissioner of Alberta.
Business litigation
Tiamat Resources Inc v Procyon Resources Corp, 2021 ABQB 646
Tiamat Resources Inc v Procyon Resources Corp, 2021 ABQB 509
Counsel on a successful application in commercial court for contested seizure and disbursement of assets arising from various oil and gas working interests.
Co-counsel for contested, multi-day arbitration with expert evidence involving intellectual property disputes over drilling mud formulations as between a junior oil and gas producer based in Alberta and a large global corporation.
Successfully negotiated contested dissolution of a franchise agreement for a local restaurateur.
Successfully negotiated and mediated purchase and sale of a variety of business, including accounting practices and a financial services practice for parties working at a national bank in Canada.
Lead counsel on a variety of contested shareholder and partnership disputes, including shareholder oppression cases involving closely held, family businesses.
Counsel and co-counsel for a national retailer respecting bodily injury claims.
Counsel for insurer on a complex multi-vehicle highway accident with various personal injury and property damage claims.
Real estate litigation
Lead counsel for condominium corporation for a three-day arbitration with expert evidence regarding building envelope deficiencies.
Lead counsel on successful negotiation and removal of approximately $2 million of lien claims on a commercial project involving a failed general contractor.
Second counsel on complex construction dispute respecting delay damages of $13.5 million relating to construction of a high-rise office tower in Calgary.
Advised numerous clients, including contractors, developers, and landowners respecting builders' lien claims on residential and commercial projects.
Advised a number of condominium corporations regarding constructing deficiencies and resulting litigation, arbitration or settlement of such disputes.
Recognition

PUBLICATIONS

"What you need to know about changes to the Builders' Lien Act", Canadian Condominium Institute Review, Summer 2021

HONOURS AND AWARDS

Top of Class, Advanced Advocacy, University of Manitoba, 2013

Top of Class, Human Rights Law, University of Manitoba, 2013

Top-three individuals Oralist, Davis LLP Corporate Securities Moot Court Competition, University of Manitoba, 2013

Winner of Solomon Greenburg Moot Court Competition, University of Manitoba, 2013

Graduate Fellowship, McGill University, 2008-2010

Memberships

Canadian Bar Association
Calgary Bar Association
The Advocates' Society
Alberta Civil Trial Lawyers Association
Entrepreneurs Organization Accelerator Program, Calgary Chapter

Community

Keys to Recovery Society

Board of directors, 2014-present

Canadian Centre for Professional Legal Education
Queen's Bench Amicus Project

Teaching Roles & Speaking Engagements

Speaking Engagements

Speaker

Alberta Builders' Lien Act Presentation

Canadian Condominium Institute, Oct 2021

Alberta Builders' Lien Act and Prompt Payment Legislation Presentation

Canadian Bar Association, Oct 2021

Alberta Builders' Lien Act Webinar

McLeod Law LLP, June 2021

Understanding and Managing Your Severance Obligations: How to protect your business and your people

Entrepreneurs' Organization Accelerator Program (Calgary Chapter), "People" Learning Day, February 2020

Speaker

People and Your Practice

Patterson Dental, April 2019