40 Years, 40 Stories
Breton Gaunt, Associate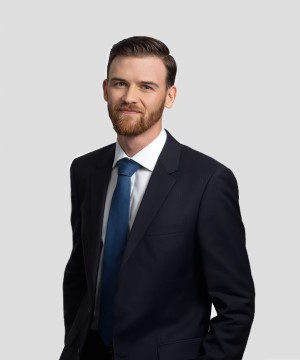 Although Breton headed straight to University of Calgary out of high school, education wasn't exactly top of mind. "To be honest," he confesses, "I was mostly there to wrestle." While Breton wrestled for the U of C Dinos, he worked on a science degree but realized that wasn't for him. After earning another degree — this time in economics — he was ready for law school.
During his 10 years at university before law school, Breton was gaining real-life experience that informs his work with McLeod Law's Business Law group. His first university summer job was working as a labourer for a commercial construction company. "Probably the worst job I've had." Eventually he got his journeyman certificate and started his own concrete construction company. "That's given me empathy for our clients," he says. "Being a small business owner is hard. I can relate to the sleepless nights, the responsibility for others' livelihoods."
In his role as a solicitor, Breton aims to prepare his clients for long-term success. "I advise them on how to properly set up the business, avoid future disputes and work with accountants to meet their financial goals — all to ensure an enduring, profitable business." In fact, he's as happy about an individual incorporating their own company as he is a publicly listed company closing a $10 million financing. "My work is all about building something."
---
In celebration of our milestone anniversary, 40 Years 40 Stories celebrates the diverse expertise, personalities and points of view that have helped our firm grow with the Calgary community since 1980.