40 Years, 40 Stories
Chad Johnson, Partner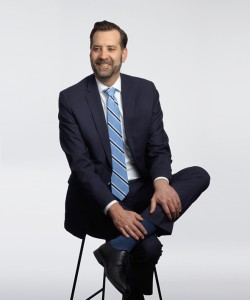 What Chad likes most about his job is helping people. As partner, mediator and lead of the Family Law group at McLeod Law, he puts that principle into action every day.
Personal connections are what attracted Chad to family law and keep him engaged each day. "I develop lifelong relationships with my clients and their families," he says. Often working on cases of separation or divorce, Chad strives to give clients peace of mind. "There can be so many hurt feelings. I help people see beyond their emotions to an amicable, fair resolution — then guide them there."
Chad is proud of McLeod's growth. In Chad's 13 years at McLeod, his Family Law group has grown from two to five and the firm has doubled in size. He credits that in part to the firm's breadth of services — offering personal legal services alongside business law practices is unique to Calgary.
Chad's drive to help others doesn't end when he leaves the office. For over 10 years, he's volunteered with Families Matter, a local organization dedicated to helping families succeed. As a program facilitator, he provided free legal education to parents. Now vice chair of the board, Chad is committed to bolstering the profile of this vital group.
In his off hours, Chad, his wife and teenaged children can be found in the mountains, biking or skiing.
---
In celebration of our milestone anniversary, 40 Years 40 Stories celebrates the diverse expertise, personalities and points of view that have helped our firm grow with the Calgary community since 1980.