40 Years, 40 Stories
Heather Bonnycastle, QC, Counsel
Law has changed immensely since Heather was called to the bar in 1972, and she's been blazing trails ever since.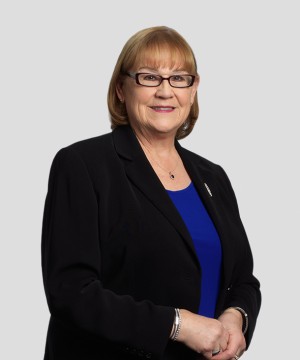 It started in 1975, when she entered condominium law. The area was still relatively new and mostly for low-cost housing and townhomes. Fast-forward 45 years and Heather is working on two high-end skyscraper projects, one above a hotel and the other above an office tower. "Putting a condo on top of another structure is really exciting," she says. "It has more legal intricacies than a standalone project."
Heather and business partner Jamie Polley left their private practice to launch McLeod Law's Condominium Law group in 2007. Now there are eight on the team, and McLeod is respected for its expertise in the area, bolstered by the esteem both clients and colleagues hold for Heather. In her work as a solicitor, she's no-nonsense. "I like to get the deal done, rather than argue about it."
Heather has also charted a trail as a woman in law. When she started, she was one of few women practicing. "People would refuse to see me," she recalls. "They'd ask to see a 'real' lawyer." While she knows it's still a struggle for women in law to balance career with family and home, she says, "We've improved a thousand per cent."
When Heather isn't blazing trails, she's burning up the golf course in several countries around the world, with Portugal next up.
---
In celebration of our milestone anniversary, 40 Years 40 Stories celebrates the diverse expertise, personalities and points of view that have helped our firm grow with the Calgary community since 1980.