40 Years, 40 Stories
Kay Decker, Associate
Kay's drive was apparent when she came home from kindergarten and told her parents she wanted to go on Saturday too. Combine that with the fact she loved to argue — "almost to a fault," she notes — and Kay seems destined to have been a lawyer.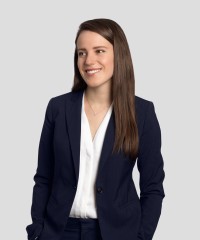 After articling at McLeod Law, Kay became an associate in August 2020. She also worked with McLeod for two summers before that. She feels lucky to have gained that real-life experience so early, and in so many areas of law. Her time with the Litigation group in particular changed her perspective: "I realized litigation isn't a 'battle', it's a puzzle. Your tools are your reasoning and your research."
Kay has also experienced firsthand how much McLeod values its people, especially its students. "They really invest in us," she notes. "Everybody is so giving with their time." She's paying it forward by providing free legal advice through the Queen's Bench Amicus Program and Civil Claims Duty Counsel, where she loves using her expertise to make tangible differences in people's lives.
Kay's skills are evident in the kitchen as well — she's been baking since she was three. Her secret? "Focus on taste first, looks second," she confides. If you're lucky, she'll share her recipe for Toffee Oat Cookies with you.
---
In celebration of our milestone anniversary, 40 Years 40 Stories celebrates the diverse expertise, personalities and points of view that have helped our firm grow with the Calgary community since 1980.