40 Years, 40 Stories
Maria Nathanail, Partner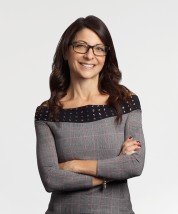 Maria's enthusiasm, infectious energy and deep experience in supporting growing companies have catapulted her into the role of trusted advisor for many local and international businesses.
In high school, everybody around Maria knew she'd be a good lawyer before she did. "I played competitive basketball, was student council president — always in leadership roles," she says. "But it was others' dialogue before it became mine: 'You'd be such a good lawyer,' they'd say." And "they" were right. After earning her law degree, Maria rose through the ranks at other firms and a private equity fund before joining McLeod Law as a partner in 2017.
Within the Business Law group, Maria practices primarily in the areas of corporate finance, securities, capital markets and corporate commercial. She applies her technical knowledge and foresight to help clients like Attabotics, TSX Venture–listed Cematrix and RockEast Energy navigate the complex corporate development process. Currently, she's assisting two companies in conducting reverse takeovers of TSXV-listed companies. Maria enjoys the relationships she builds with clients as she guides them from upstarts to local, national and international success stories. "I love helping them navigate that craziness," she laughs.
Maria enjoys adventuring in the mountains with her husband, seven-year-old daughter and her dog Lulu. Also an avid runner, she has completed one marathon and countless half marathons and has podiumed three times at the Banff Ekiden Relay, along with members of her team, "Off Like a Prom Dress".
---
In celebration of our milestone anniversary, 40 Years 40 Stories celebrates the diverse expertise, personalities and points of view that have helped our firm grow with the Calgary community since 1980.