40 Years, 40 Stories
Mark Rathwell, Partner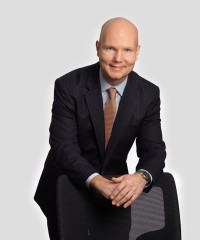 Mark is a litigator, but his business card could easily read "Problem Solver." He knows that nobody wants to be in litigation, nor spend a lot of money to get out of it. "I work to get the issue resolved quickly, properly, and at the lowest possible expense."
After graduating from University of Wales, this born-and-bred Calgarian promptly returned to the city and began his articles with McLeod Law. Twenty-three years later, he's still here. Although the firm is five times larger, Mark sees the same spirit of collaboration and camaraderie he did all those years ago.
For Mark, litigation is both art and science. "There's no formula. What I do with a set of facts is often quite different from what another lawyer might do," he says. "I like to find the best way to solve the problem."
A country boy at heart, Mark lives with his wife and two young sons on a rural property, where you'll find him tinkering around the yard and generally enjoying the outdoors. One of his sons has autism, so for five years, Mark has dedicated his time to the Autism Association of Calgary. Chair of the board, he assists with strategy and fundraising for this organization so near and dear to his heart.
---
In celebration of our milestone anniversary, 40 Years 40 Stories celebrates the diverse expertise, personalities and points of view that have helped our firm grow with the Calgary community since 1980.