40 Years, 40 Stories
Jackie Halpern, QC, Partner
In Jackie's first week of articling, the litigator she was working with told her, "We're going to court!" She's never looked back, becoming a litigator "through and through."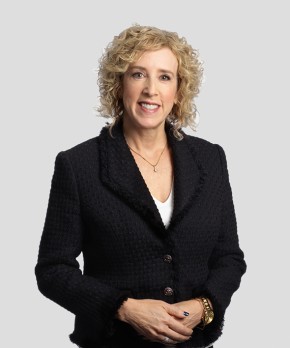 After practising at McLeod Law in the 1990s for six years, Jackie returned in 2004, when the firm invited her to work part-time. "It was phenomenal how accommodating they were for a mother with two young children," she recalls. She eventually worked her way up to partner and head of the Personal Injury group.
Jackie appreciates how life-changing her work can be. Her love for the law and passion for helping people make her a strong advocate for her clients. Recently, she received a settlement for a 16-year-old that will give the young woman income for the rest of her life. "It sounds hokey, but I'm sincere when I say I love letting my clients focus on their health while I deal with the 'big bad insurance companies.'"
An avid volunteer for numerous causes, Jackie is currently president of the Alberta Civil Trial Lawyers Association, lobbying against changes that would remove or limit Albertans' right to sue for damages they could claim if they're in a motor vehicle accident.
For her dedication to her clients and law in general, Jackie has received many honours. She's earned a prestigious 5-star client rating on Martindale-Hubbell, is ranked as a leading practitioner in the Canadian Legal Lexpert Directory. She was also appointed as a Queen's Counsel in 2011 and awarded the Queen's Diamond Jubilee Medal in 2012.
---
In celebration of our milestone anniversary, 40 Years 40 Stories celebrates the diverse expertise, personalities and points of view that have helped our firm grow with the Calgary community since 1980.