40 Years, 40 Stories
Rahim Merchant, Partner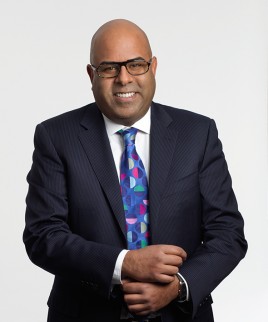 Commercial litigator Rahim Merchant's path to the practice of law was a circuitous one. With degrees in political science and economics under his belt, he worked in the local hospitality industry for several years before pursuing a law degree at age 30. He studied at the Schulich School of Law at Dalhousie University, and returned to Calgary to practice.
Seeing himself as a "fixer," Rahim strives to right what's been wronged. As a member of the Commercial Litigation group, Rahim focuses on residential real estate, construction, foreclosure and business litigation. Whether his client is a home builder or condo corporation, his empathetic yet pragmatic approach assures clients someone is on their side and has their best interests at heart.
"I thrive on the complexities of construction and real estate cases," Rahim notes. "I enjoy digging into and truly understanding a clients' business to find resolution to their legal issues. Every day brings new challenges."
Outside of the law, Rahim is a "car guy," with a passion for repairing and rebuilding vehicles. Happiest under the hood, his latest project is working to rebuild the motor on a friend's classic Mercedes.
Recognizing time is the most valuable commodity an individual has, Rahim is also committed to giving back to the community that invested in him. He sits on the board of a local senior's care home, volunteers at the Mustard Seed over the holidays and is involved with Pro Bono Canada, providing legal advice to those who cannot afford legal fees.
---
In celebration of our milestone anniversary, 40 Years 40 Stories celebrates the diverse expertise, personalities and points of view that have helped our firm grow with the Calgary community since 1980.