40 Years, 40 Stories
Shayi Xu, Partner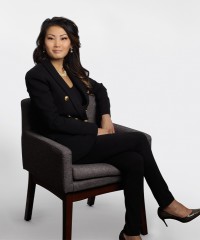 As a first-generation Canadian, Shayi appreciates the importance of building a life for your family. Her parents immigrated from Shanghai to Newfoundland when Shayi was five. They worked hard to ensure a good education for her, while her mom — a "tiger mom," Shayi jokes — constantly pushed her to excel. Their drive and entrepreneurial spirit are in her now, informing her every step of the way.
Shayi loves family law for the difference she can make. "I help my clients through some of the most challenging stages of their lives, dealing with the complexities that arise in separation and divorce matters," she says. "Custody, parenting, child support and spousal support — difficult issues that cause so much stress." Shayi likes to work together with clients to find the most reasonable and practical solution, one that allows them to move on to a new future — and one that ideally doesn't involve extensive and expensive litigation.
In 2019, Shayi had the honour of being on the board of Alberta's first Women's Entrepreneurship Day. She's proud to have supported Calgary's female leaders through the inaugural sold-out event.
Despite her reputation for living in the office, Shayi does have a very patient husband who's understanding of her workload and is a "crazy dog mom" to three pups. When she manages to step away from client work, she's catching up on sleep, watching silly reality TV or, of course, doting on her dogs.
---
In celebration of our milestone anniversary, 40 Years 40 Stories celebrates the diverse expertise, personalities and points of view that have helped our firm grow with the Calgary community since 1980.