40 Years, 40 Stories
Robin Lokhorst, Managing Partner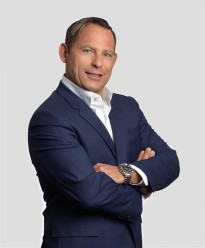 The first time Robin left Calgary was when he crossed the ocean to study law in Wales. There, surrounded by international students, Robin learned the value of respecting the diversity of voices around him. This guides him today as he steers McLeod Law into its 41st year. "Relationship building is at the heart of a legal practice," he says. "To lead a successful practice, you need to understand people and truly listen to them."
Robin is the first person at McLeod to article, become an associate, then a partner and managing partner. Thirty years since he joined, he still remembers how different McLeod's interview process was compared to other firms' "cattle calls." "It was intimate and hands-on. I met with the four partners directly. You could see how much they cared." All these years later, with a much-larger and ever-growing team, he's determined to maintain that culture.
Robin has served as counsel to the Canadian Luge Association and is proud to be the chair of Attainable Homes Calgary, helping 1,000 Calgarians achieve their dream of owning a home when they otherwise couldn't have.
Travel, cooking and sports fill his personal time. As a former restaurateur, Robin reads cookbooks for pleasure and loves to experiment with whatever is in his fridge.
---
In celebration of our milestone anniversary, 40 Years 40 Stories celebrates the diverse expertise, personalities and points of view that have helped our firm grow with the Calgary community since 1980.