40 Years, 40 Stories
Aaron Bickman, TEP
"I'm the go-to guy for the bizarre and obscure," says Aaron. That's probably because, in his practice in the Wills, Trusts and Estates group at McLeod Law, he's open to anything, no matter how challenging — and has earned a reputation for his deft handling of such cases.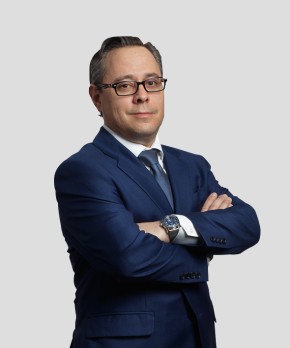 Aaron comes by his intrepid attitude naturally. When he started practicing, one of the lawyers he was supposed to work with ended up going on leave. "I spent a good part of my early practice diving into files that were very much beyond my abilities at the time and was grateful for the time and mentorship from the other lawyers in the office." Now, when presented with a case, Aaron digs right in, figuring out the problem and solving it. His clients appreciate this no-nonsense approach, rating him a Client Champion on Martindale-Hubbell.
However, Aaron has never forgotten his early years. "I remember what it was like to be that deer in the headlights." Just as he benefited from others when he was starting out, he likes to give back, educating students and young lawyers. He does so by speaking at seminars offered by such organizations as the Legal Education Society of Alberta, where he flexes his skill at effectively communicating complex topics. "I've had the benefit of being mentored by very good, well-respected lawyers. Now it's my turn to help others."
---
In celebration of our milestone anniversary, 40 Years 40 Stories celebrates the diverse expertise, personalities and points of view that have helped our firm grow with the Calgary community since 1980.