Aaron Bickman
TEP
Partner
OFFICE: Downtown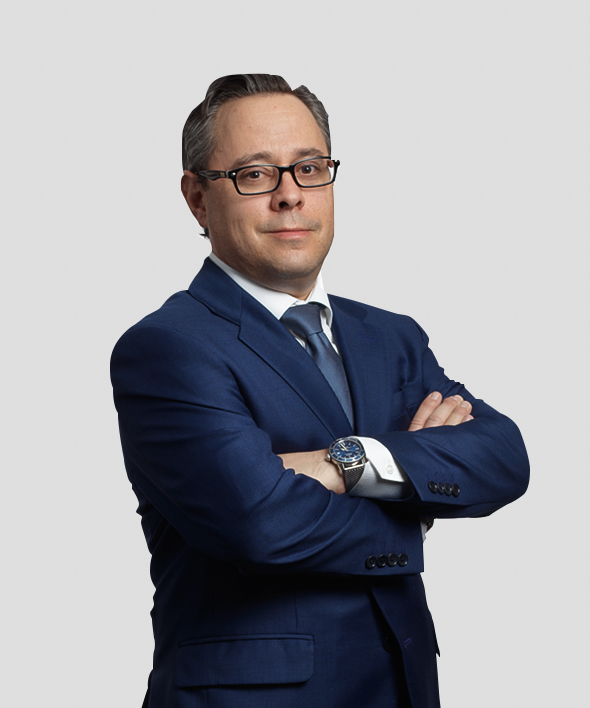 The team's knowledge and experience help us deliver efficient, effective advice to our clients.
Aaron has a diverse practice with a focus on Wills, Trusts, and Estates. He has extensive experience in estate planning, administration, and dispute resolution. His practice also includes business law and real estate law.
Aaron is a recognized thought leader in the application of The Surrogate Rules and complicated court applications, which helps him generate positive, timely results for his clients. He shares his knowledge with colleagues and the public through teaching and speaking roles.
Clients have highly recommended Aaron, giving him a top rating on Martindale-Hubbell.com.
Education
2018

Executive Certificate in Conflict Management, University of Windsor Faculty of Law

2017

Advanced Alternative Dispute Resolution, University of Windsor Faculty of Law

2003

University of Manitoba, LLB

1998

University of Calgary, BA
Experience
Aaron has been a partner at McLeod Law since 2013. Clients rely on him to help them navigate complex and stressful life-cycle issues. The diversity of his experience helps him understand his clients' needs and give complete advice and comprehensive solutions.
Represents clients at the Alberta Court of King's Bench for various estate, Represented Adult, and civil litigation matters.
Preparation of wills, enduring powers of attorney, and personal directives.
Preparation of all documentation required for the administration and probate of estates.
Preparation of all documentation required in Represented Adult matters.
Preparation of documentation required in corporate transactions.
Preparation of all documentation required in residential real estate purchase and sale transactions.
Recognition

HONOURS & AWARDS

Aaron is recognized by The Best Lawyers in Canada 2023 for work in Trusts and Estates.
Aaron comes highly recommended by clients, giving him a 5 out of 5 ("Silver" rating) by Martindale-Hubbell.

University of Manitoba, Faculty of Law

Frank Billinkoff Prize for top standing in wills and succession

Jane Evans QC Prize for demonstrated excellence in property, trusts, and wills and succession

PUBLICATIONS

Memberships

Alberta

Surrogate Rules Advisory Committee (2020-present)

Law Society of Alberta

Society of Trust and Estate Practitioners

Trust and Estate Planner (TEP) designation, (2016-Present)

Calgary Bar Association

Board Member (2017-present)

Community

STEP Canada

STEP Inside Editorial Board, 2021-present

Jewish National Fund of Canada

Board Member, Calgary Board of Directors, 2012-2019
President, Calgary Board of Directors, 2013-2016
Board Member, National Board of Directors, 2014-2017

Pro Bono Law Alberta, King's Bench Amicus Court Assistance Program
Canadian Bar Association (Alberta South)

Provincial Council (former)
Alberta Law Conference Committee, 2012, 2014, 2016
Law Day Calgary Committee co-chair, 2009, 2010, 2012
Law Day Calgary Volunteer, 2008-2015

Canadian Bar Association (Alberta South) Wills and Trusts Section


Wills and Succession Act Committee co-chair

Canadian Bar Association (Alberta South) Wills & Trusts Section


Former Co-Chair and Executive Member

Canadian Bar Association (Alberta South), Residential Real Estate Section

Former Chair and Executive Member

Legal Archives Society of Alberta

Board of Directors, 2015-Present

Calgary Surrogate Court Roundtable

Participant in surrogate process review, 2017-Present

Alberta Justice, Wills and Estates

"Technical Discussions" with specialists regarding the proposed amendments to the Matrimonial Property Act contained within the Wills and Succession Act, May 2012

Consultation with the Office of the Public Trustee for the Province of Alberta

On a committee including the Public Trustee for the Province of Alberta and senior wills and estates practitioners regarding the implementation of the Adult Guardianship and Trusteeship Act and regulations, May 2009

Teaching Roles & Speaking Engagements

SPEAKING ENGAGEMENTS

---

SPEAKER

Estate Planning During the Covid-19 Pandemic

Beth Tzedec Synagogue, Hazak group, June 2020

---

SPEAKER

"Honing the Solicitors' Spidey Sense" - Red Flags in Drafting Wills Related to Family Maintenance and Support Applications

Legal Education Society of Alberta (LESA), November 2019 (Calgary), November 2019 (Edmonton)

---

SPEAKER

Solicitor Potpourri: Estate Planning Practice Tips

Canadian Bar Association (Alberta South), Wills and Trusts Section, April 2019

---

SPEAKER

Advanced Estate Administration

Legal Education Society of Alberta, May 2018, November 2018, 2016 (Note taker)

---

SPEAKER

Wills and Estates Practice Fundamentals

Canadian Centre for Professional Legal Education, October 2014, November 2016, November 2017, March 2018

---

SPEAKER

Wills and Estates Case Update

Society of Trust and Estates Practitioners, Calgary Chapter, January 2018

---

SPEAKER

"Limited Grants - What's The Rush?"

Canadian Bar Association (Alberta South), Residential Real Property Section, November 2017

---

SPEAKER

Estate Planning

Friends of Fish Creek, October 2017

---

SPEAKER

Planning for Incapacity

Retired Teachers Association of Alberta, April 2017

---

SPEAKER

Obligations of an Executor/Trustee/Attorney to Properly Account: Beyond the Basics & Tales from the Trenches


Society of Trust and Estates Practitioners, Calgary Chapter, October 2016

---

SPEAKER

Personal Planning

University of Alberta, October 2016

---

SPEAKER

Wills 101

Beth Tzedec Synagogue, Hazak group, October 2016

---

CHAIR

Wills and Estates for Legal Support Staff

Legal Education Society of Alberta, September and October 2012

---

SPEAKER

Real Estate Boot Camp


Legal Education Society of Alberta, November and December 2009

---

TEACHING ROLES

DEVELOPED COURSE MATERIAL

Alberta Wills and Estates Practice Manual

Legal Education Society of Alberta, April 2019

---

DEVELOPED COURSE MATERIAL

Alberta Estate Administration Manual

Legal Education Society of Alberta, 2015-2016

---

EDITOR

Tables of National Concordance, Alberta material

Canadian Bar Association Wills and Trusts Section, 2011-2012

---

DEVELOPED COURSE MATERIAL

Remedies from the 2007 Alberta Residential Conveyancing Manual


Legal Education Society of Alberta, October 2011