40 Years, 40 Stories
Brent Cooper, Partner
Brent's first attempt at pleading a case was in grade 12, when he was nominated to represent the group responsible for starting a food fight in the cafeteria. (Full disclosure: he was one of the group.) "It was my first time acting as an advocate … and my first defeat," he remembers.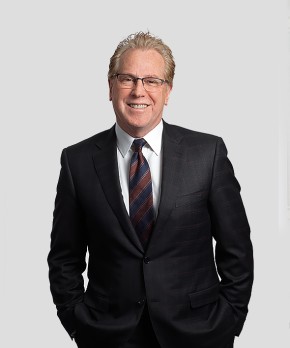 How things have since changed for Brent. When he joined McLeod Law in 2000 after 10 years of general litigation practice, it was to hone the firm's business law and business litigation savvy. In his own practice, he has an "antenna" for perceiving a client's real needs and objectives. Brent credits this sense for his ability to find a new deal that's often better than the old. "When you've been practicing for as long as I have, solving a dispute can be a creative process. It's very rewarding."
You're not likely to find a bigger advocate for Calgary than Brent. His position as Chair of the Board for the Calgary Chamber is symbiotic with McLeod's dedication to its community. "I see Calgary through two lenses — the Chamber and McLeod's clients," he says. The Chamber has helped Brent, and McLeod, appreciate how the people in business are the people in their community, advancing the community through business. In turn, Brent notes that McLeod clients are caring, ambitious and positive. "It's the people and their energetic, optimistic vibe that make Calgary great, and its future positive."
---
In celebration of our milestone anniversary, 40 Years 40 Stories celebrates the diverse expertise, personalities and points of view that have helped our firm grow with the Calgary community since 1980.