40 Years, 40 Stories
Michael Kwiatkowski, Partner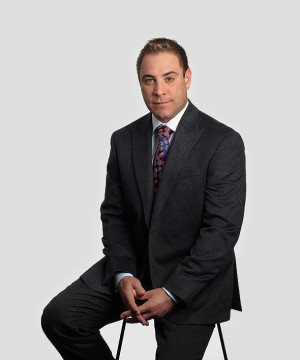 A former competitive snowboarder and drummer, Mike found his way to law in a roundabout way: through a snowboarding accident. A year after making the national team, he broke his leg while training for the Olympics. The accident was the result of a binding malfunction. Mike and his team commenced legal proceedings against the equipment manufacturer — and thus was born his interest in law.
McLeod Law is the only firm Mike has known. He began as an articling student in 2007, became partner in 2014 and now leads the firm's Litigation group. As a commercial litigator, Mike says, "When clients come to me, something is generally 'on fire.' Reaction time is number 1. I'm there for them."
Case in point: the two-year negotiation regarding the University of Calgary Students' Union ownership and use of MacEwan Student Centre (Mac Hall). It was a unique area of law that hadn't been settled in Canada yet. Every detail was under public scrutiny. Mike recalls, "We left no stone unturned." They got a settlement outside of court that was a win-win for both parties. Mike credits the depth and diligence of McLeod's legal team, who fought long and hard for its client.
Mike may have retired from competitive snowboarding, but his need for speed and adventure is still strong. Nowadays, he rides motorbikes, wakeboards and flies his Diamond Star 40.
---
In celebration of our milestone anniversary, 40 Years 40 Stories celebrates the diverse expertise, personalities and points of view that have helped our firm grow with the Calgary community since 1980.