40 Years, 40 Stories
Simon Muller, Partner
After 14 years of representing insurance companies against injured people, Simon hit pause. "I wanted something more meaningful," he recounts. He was tired of fighting for the big insurance companies against the little guy. So he took six months off and enjoyed the extra time with his six-month-old child.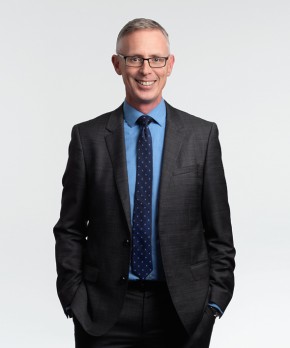 When McLeod Law came calling, Simon knew he'd found the meaningful work he sought – this time representing the victim. "I love coming to work every day," he says. "Clients come to me injured, scared and facing an uncertain future. They've lost their ability to work and their medical bills are growing. They need reassurance I'll support and fight for them." As a testament to his dedication, Simon is ranked by his peers in the Canadian Legal Lexpert Directory as a leading practitioner in personal injury.
For Simon, the best achievement is helping a client move forward with their life, to find housing, put food on the table and get the care they need. "Seeing the difference I can make is what I'm most proud of."
At home, Simon spends time with his four kids and wife. When they "allow" him, he'll sneak away for some golf or cook a messy meal, with extravagant sauces being his trademark dish.
---
In celebration of our milestone anniversary, 40 Years 40 Stories celebrates the diverse expertise, personalities and points of view that have helped our firm grow with the Calgary community since 1980.