Austin S. Paladeau
Partner
OFFICE: Downtown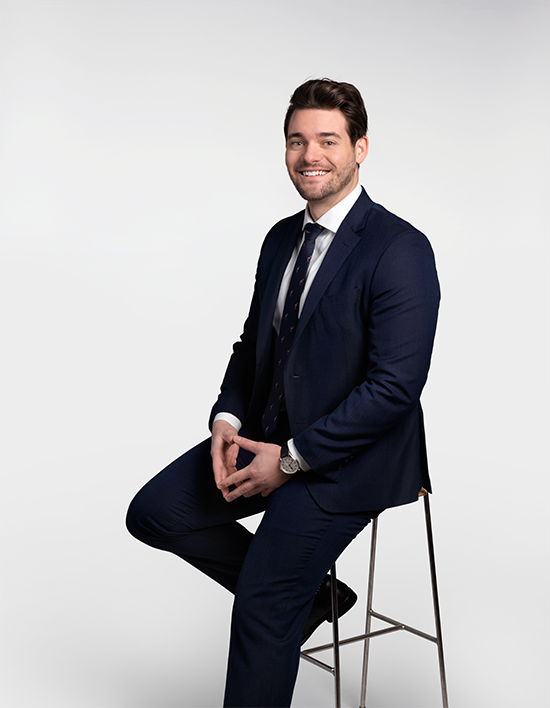 Great advocacy is only possible after honest and open discussion with the client.
Austin helps a variety of personal injury clients with their advocacy needs. He has experience as both lead counsel and co-counsel in complex injury litigation and insurance disputes.
Austin's interests and practice focus are on:
motor vehicle accidents
civil assault (nightclub, bar, and domestic)
wrongful death
defective product/manufacturing
slip and falls
insurance benefit termination
Austin also has extensive experience as counsel for injured plaintiffs in mediation and judicial dispute resolution.
Education
2014

Thomson Rivers University, JD

2009

University of Calgary, BA
Experience
Dunn v Heise et al, 2021 BCSC 754 - Successfully represented our client at trial. Our client suffered a potentially life-threatening fracture and psychiatric consequences from a highway motor vehicle collision. The plaintiff was awarded $200,000 for pain and suffering damages, and over $500,000 for his income losses. Total damages were assessed at $834,631, and the plaintiff was awarded his costs.

Hollingshead et al v O'Reilly, 2020 ABQB 538 - Successfully represented our client at summary trial on the issue of damages. Our client (the plaintiff) was violently assaulted and unlawfully confined by the defendant over a protracted period of time. The plaintiff was awarded $493,650 in damages, including $100,000 in pain and suffering damages for significant psychological trauma and $300,000 in earning capacity damages, a record in Alberta. We also successfully recovered Alberta Health's claim for the cost of health services provided to the plaintiff.
Cullen v. Kao, 2019 ABQB 799 - Successfully represented our client at a summary trial on liability where the defendant claimed the defence of 'inevitable accident'.
Jones v. Stepanenko, 2016 ABQB 295 - Successfully represented a plaintiff for serious soft-tissue injuries and

fibromyalgia

sustained in a car crash. Plaintiff awarded over $280,000 plus interest and costs.
Carr v. Calgary Exhibition and Stampede Limited et al. (Action No. 150111796; unreported Master's decision). Austin successfully resisted a summary judgment application brought by Cowboys Night Club to dismiss his injured client's assault claim against the night club.
Memberships

Law Society of Alberta
Canadian Bar Association
Synaptic Spinal Cord Injury & Neuro Rehabilitation Centre

Community

Classic Charity Events Ltd.
Elizabeth Fry Society