Shane B. King
Partner
OFFICE: Calgary South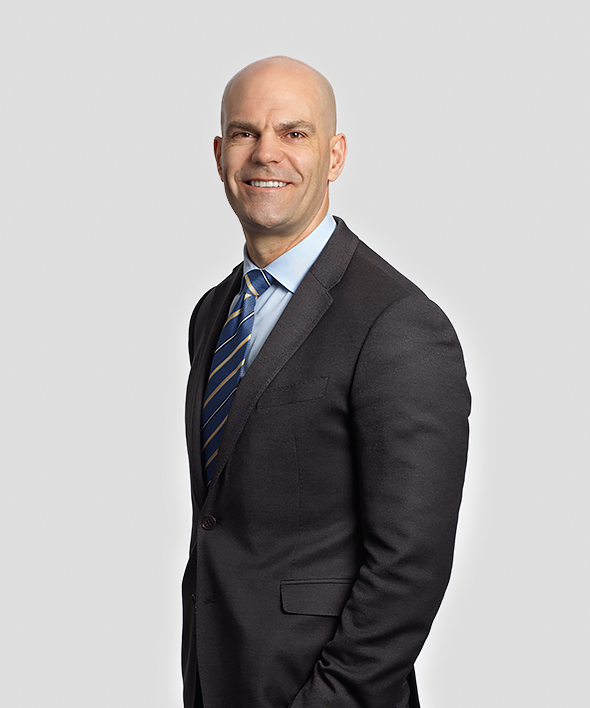 I believe in cost-benefit analysis so the most cost-effective outcome is achieved for my clients' cases.
Shane is a partner in the Litigation & Dispute Resolution group where he advises clients–individuals, small businesses, and corporations–on litigation and contractual issues, including:
corporate litigation
employment agreements and contract negotiation
severance package determination and review
construction contracts and defects
holdbacks and builders' liens
debt recovery, bankruptcy, and insolvency
regulatory applications
He has appeared before all levels of court in Alberta and has been involved in mediation and arbitration panels, including the Alberta New Home Warranty and the Natural Resources Conservation Board.
Shane is one of McLeod Law's representatives of the Entrepreneurs' Organization, Calgary chapter—as the official legal partner. EO Calgary is an exclusive peer-to-peer network of 130+ influential business owners and acts as a catalyst for entrepreneurs to learn and grow, and enhance their success in business and beyond.
Shane is on McLeod Law's Executive Committee and was also the head of the firm's Commercial Litigation & Dispute Resolution group for 10 years prior.


Education
2001

University of Alberta, LLB

1997

University of Calgary, BA
Recognition

RECENT MEDIA COVERAGE

PUBLICATIONS

Understanding Layoff vs Termination for Employers During Pandemic Time, CPHR Alberta, August 2020
A Recent Court Caution in Use of "Retroactive Capacity" Experts at Trial, April 18, 2018
Significant changes to Alberta's Employment Standards & Labour Relations Codes, March 1, 2018
Bona Fide Occupational Requirements: Implications of the Meiroin and Grismer Decisions for Employers, October 28, 2015
Terminating an Employee Due to a Disability, October 9, 2013

AWARDS

Memberships

Law Society of Alberta
Canadian Bar Association
Entrepreneurs Organization (EO) Calgary Chapter

Community

Pro Bono Law Alberta

Queen's Bench Amicus Project
Volunteer

Calgary Flames Foundation
Calgary Meals on Wheels
Calgary Flames Ambassadors
Sport Dispute Resolution Centre of Canada
University of Calgary, Student Legal Services
Calgary Minor Hockey

Teaching Roles & Speaking Engagements

SPEAKING ENGAGEMENTS

---

SPEAKER

Transitioning to the new normal – the legal perspective

Entrepreneurs' Organization Calgary Chapter, Webinar, May 2020

---

SPEAKER

Legal Case Study: Employer successfully defended in a wrongful dismissal claim involving sexual harassment

CPHR Alberta Conference, April 2019

---

EVENTS

Business Career College, Annual Employment Law Seminar

HRIA Law Conference, February 2017

HRIA Conference, February 2016

CHBA Builder Breakfast: Construction Permits, Inspections & Approvals, May 2014

---

SPEAKER

Employment Law seminars

Local Calgary businesses

---

SPEAKER

Condominium Litigation seminars

Various firms and associations