40 Years, 40 Stories
Aman Sran, Associate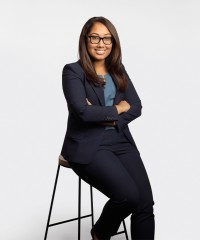 After getting a BA in communications and working at the Bank of Canada, at the ripe old age of 21, Aman wondered what was next. When she took stock of what she was good at — analysis, problem-solving, tackling challenges head-on — Aman realized that law school was a great fit.
Throughout school, Aman was always drawn to estate law. So when she joined the Estate Litigation team at McLeod Law in 2017, she knew she was in the right place. She loves the high-stakes, high-conflict aspect of estate litigation, where her cool head can prevail. "It can get intense. You have to be the most grounded person in the room."
Aman is particularly proud of a pro bono case in which she helped a client remove herself as guardian of her terminally ill sister, giving the ailing sister her right to pursue a medically assisted death. While the woman passed away on her own, Aman recalls, "She knew she had regained the right to choose — and that was really powerful."
Having grown up in the Greater Toronto Area, Aman is more of a city person. However, Calgary has encouraged her outdoorsier side, cycling, camping and escaping to where her cell phone doesn't work.
---
In celebration of our milestone anniversary, 40 Years 40 Stories celebrates the diverse expertise, personalities and points of view that have helped our firm grow with the Calgary community since 1980.