Shelley E. Waite
TEP
Partner
OFFICE: Calgary South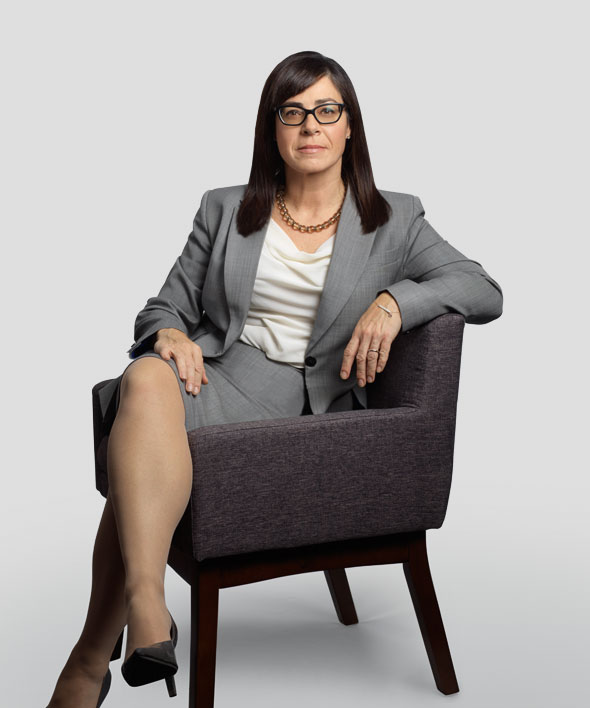 I enjoy creating efficient solutions for client's succession concerns, from drafting their plan to navigating a family's contentious estate.
Shelley has a depth of knowledge in Wills, Trusts and Estates with a focus on:
estate planning
US/cross border planning
estate administration
estate dispute resolution
elder law
trust planning
guardianship and trusteeship matters
She is adept at guiding clients smoothly through a process that can be stressful and complicated. She believes in educating people, creating efficient solutions that work for her client's specific concerns, and collaborating with their trusted professionals to resolve their personal estate matters.
Clients have highly recommended Shelley, earning a rating of 5 out of 5 ("Platinum") on Martindale Hubbell and Lawyers.com.


Education
2018

Executive Certificate in Conflict Management, University of Windsor, Faculty of Law

2002

University of Calgary, LLB

1998

Portland State University, BA (Honours)
Experience
As designated mediator and lawyer, Shelley is equipped to bring families together for either preventative strategy or to mediate any known disagreements.
In a family meeting, Shelley helps clients uncover any tensions or unknown expectations, pre or post estate planning. It's an effective exercise used to help prevent disagreements that could lead to litigation.
For clients with disputes or potential disputes in their family, Shelley offers her mediation services to guide the process for her client tactfully, and reach a resolution without having to go near a courtroom.
Recognition

HONOURS AND AWARDS

Shelley is recognized by The Best Lawyers in Canada 2023 for work in Trusts and Estates.
Clients highly recommend Shelley, giving her a rating of 5 out of 5 ("Platinum" rating) on Martindale-Hubbell.com.
Volunteer of the Year, Glenlake Hockey Association

RECENT MEDIA COVERAGE

Interviewed in, "Canadian Life Insurers Want Different Treatment for Assisted Dying," Life Pro News, April 2016
Interviewed on estate planning, The Rutherford Show, June 2013
Quoted on the topic of wills and succession planning, The Rutherford Show, March 2012
Quoted on the topic of succession planning, CTV News, March 2010
Quoted on the topic of succession planning, CBC Wildrose Country, March 2009 and March 2010
Quoted on the topic of succession planning, Global News, March 2010

PUBLICATIONS

"Cryptocurrency and death: Where's your key?", Concentra Insights, August 2020
"Planning for Dependent Children," Legal Education Society of Alberta, January 2018
Elder Law, Legal Education Society of Alberta, May & June 2018
"Prudent Practice for the Elderly Client," Legal Education Society of Alberta, March 2016
"Guardianship & Trustee," Canadian Bar Association Health Law subsection, February 2018
"Errors in Drafting," Canadian Bar Association National Conference, October 2016
"Drafting and Practice Considerations under the Wills & Succession Act: Controlling the Matrimonial Property Claim," Legal Education Society of Alberta (LESA), Edmonton & Calgary, November 2011
"Getting Started - Initial Points to Consider for the Wills and Estates Practitioner," Legal Education Society of Alberta (LESA), Boot Camp, February 2009

Memberships

Advance Care Planning (ACP) Alberta

Advisory Committee Member, 2021-present

Alberta Surrogate Rule

Advisory Sub-Committee Member, 2020 to present

Society of Estates and Trusts Practitioners (STEP)

Trust and Estate Planner (TEP) designation (2012-present)

Canadian Bar Association


Honourary member-at-large, Executive Committee, Wills, Estates & Trusts Section - National (2019-2020)
Executive Committee, Wills, Estates & Trusts Section - National, 6-year term
End of Life Working Group (2016-2019)
Chair, Wills, Estates & Trusts Section - National (2016-2017)
Chair, Wills & Trusts Section - Southern Alberta (2010-2012)
Committee member, Southern Alberta, Wills & Succession Act (2011-2012)
Committee member, Southern Alberta, Wills & Trusts Law Section, Adult Guardianship and Trusteeship Act (2010-2011)

Alberta Advance Care Planning, Collaborative Research and Innovation Opportunities (ACP CRIO) Research Program (2014-present)
Leave A Legacy Calgary

Former Executive Member (2004-2015)

Canadian Association of Gift Planners

Former Executive Member, Southern Alberta Round Table (2012)

Community

Glenlake Hockey League

Board member
House League Tournament coordinator, 2014-2019

Teaching Roles & Speaking Engagements

SPEAKING ENGAGEMENTS

Presenter

Plan Ahead Alberta

Webinar "Planning for Life's Journey: connecting health, financial and estate planning in community education" Hosted by Palliative Care Canada, Covenant Health - Palliative Institute of Alberta, and Project Echo
July 11, 2023

---

Facilitator

Committee Session on Legal, Financial Planning and Insurance

Covenant Health Palliative Institute, April 2022

---

PRESENTER

Building Compassionate Communities: Raising Awareness of Palliative Care and Advance Care Planning in Alberta Forum

Covenant Health Palliative Institute, March 2022

---

PRESENTER

Conflict Resolution and mediation in guardianship & trusteeship matters

Legal Education Society of Alberta - Adult Guardianship and Trusteeship Fundamentals Course, February 2019

---

PRESENTER/MODERATOR

Joint Ownership: Legal Developments and Best Practices

CBA National Webinar, October 2018

---

CHAIR & PRESENTER

Elder Law Topics

Legal Education Society of Alberta (LESA), May 2018 (Calgary), June 2018 (Edmonton)

---

PRESENTER

Guardianship and Trusteeship

CBA Alberta Health Law Section - South Meeting, February 2018

---

PRESENTER

Estate Planning for the Average Wealth Client

Legal Education Society of Alberta (LESA), November 2017, December 2017

---

PRESENTER

Medical Assistance in Dying

Society of Trust & Estate Planners (STEP), October 2017

---

PRESENTER/MODERATOR

Elder Financial Abuse

CBA National Webinar, June 2017

---

PRESENTER

Capacity and Influence

Legal Education Society of Alberta (LESA), March 2017 (Calgary), March 2017 (Edmonton)

---

PRESENTER

Medical Assistance in Dying

Calgary Estate Planning Council, March 2017

---

PANELIST

Advance Care Planning - How Lawyers can help their clients

The Alberta Advance Care Planning CRIO Research Program, September 2015, February 2017

---

PARTICIPANT

Estate Planning & Litigation Forum

Cambridge Forums, April 2016, April 2017

---

PRESENTER

Common Errors in Will and Trust Drafting

CBA National Will, Estate and Trust Fundamentals for Estate Practitioners, October 2016

---

PRESENTER

Capacity/Dementia Issues of an Aging Population

Canadian Association of Gift Planners National Conference, April 2016

---

PRESENTER

Elder Abuse and use of the Alter Ego Trust

Society of Trust & Estate Planners (STEP), April 2015

---

SPEAKER

Wills & Succession Act of Alberta and the Adult Interdependent Relationships Act

Conciliation & Arbitration Board, Social Welfare Board, and Economic Planning Board, March 2015

---

TEACHING ROLES

ADJUNCT PROFESSOR

Wills & Estates Class, University of Calgary, Faculty of Law, 2014

---

SEASONAL LECTURER

Estate Planning and Administration

Chinook Learning Services, Continuing Education, 2006-2009

---

SEASONAL LECTURER

Estate Planning and Administration

Calgary Catholic School Board, 2005-2008

---

DEVELOPED COURSE MATERIAL

Being an Executor Program

Chinook Learning Services, August 2009