40 Years, 40 Stories
Shelley Waite, TEP, Partner
By the time Shelley started law school, she'd already packed a lot in: earning a BA, then a laboratory technology certificate, working in Canada and the US and backpacking through Mexico for good measure.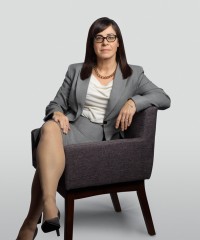 Not surprisingly, Shelley appreciates McLeod Law's entrepreneurial spirit. "McLeod wants its people to succeed," she says, "and they give you what you need to do so." Mentoring junior associates is key to both the associates' and firm's success. When Shelley joined McLeod in 2003, the late Chris Thomas took her under his wing. "Chris's door was open to everybody. He was patient and kind — but expected the best out of you." Shelley keeps that spirit alive in her own practice.
She channels Chris's openness with clients too. Believing that wills and estates law is really "people law," Shelley encourages her clients to share their stories with her. By incorporating these stories into their estate plan, she ensures that the wealth people have spent their lives growing goes to the right place.
In the community, Shelley is all about hockey. She ran a house league for five years and, in that role, sat on a committee with Hockey Calgary, where she helped introduce an inclusive program that gives all kids the opportunity to play.
At home, Shelley stays busy with her two sons, aged 12 and 14, and two dogs, including a 15-year-old chihuahua.
---
In celebration of our milestone anniversary, 40 Years 40 Stories celebrates the diverse expertise, personalities and points of view that have helped our firm grow with the Calgary community since 1980.